HKDSE & Beyond
(For previous years, please click the links on the left).
HKDSE Examination 2020
127 F.6 students sat the HKDSE 2020 and they performed very well. They obtained 364 Level 5 to 5** (including Mathematics Extended Parts and Japanese). On average each student attained Level 5 or above in 2.87 subjects. 13 students scored Level 5** in two or more subjects. 6D Kwan Wing Hei achieved 5** in three subjects and 5* in four subjects. 100 students (78.7%) obtained 20 grade points or above, which is equivalent to scoring Level 4 or above in 5 subjects. 93.7% of our students met the basic university entrance requirement (33222).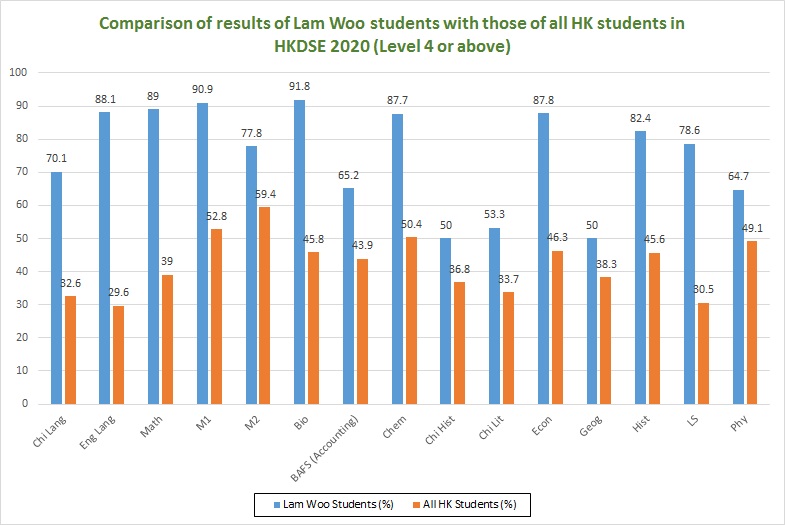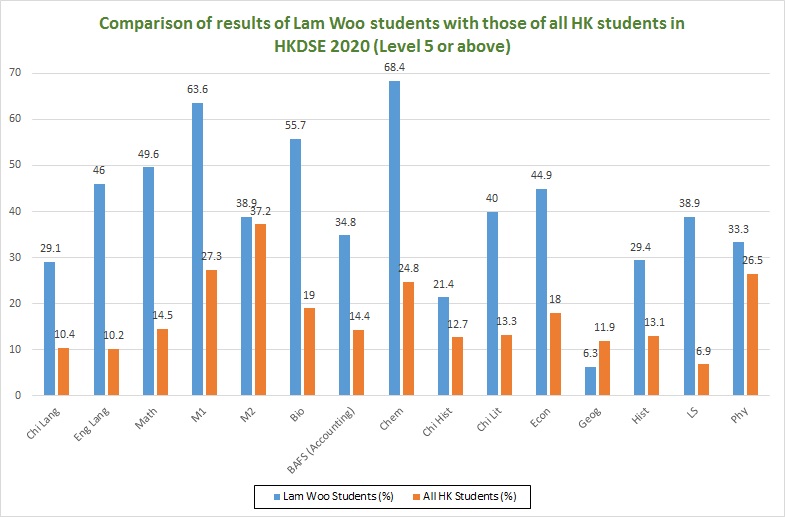 JUPAS Offer
125 students applied Joint University Programmes Admissions System (JUPAS), 123 (98.4%) of them were admitted to university through (undergraduate programme: 92.0%; associate degree programme or higher diploma course: 6.4%). 5 students were admitted to the Faculty of Medicine and 6 students were admitted to LLB and BBA (Law).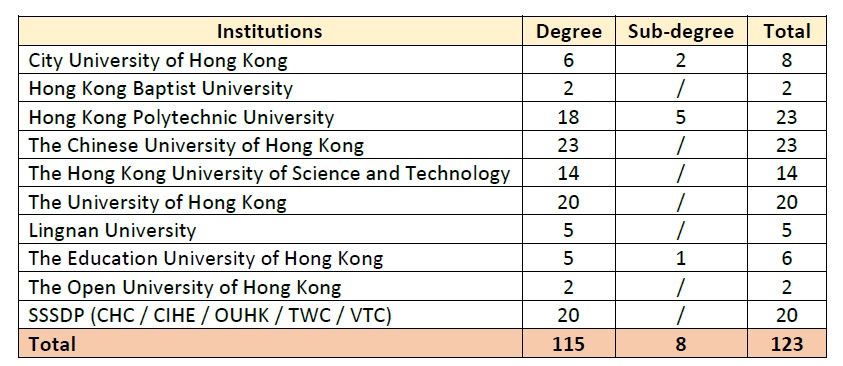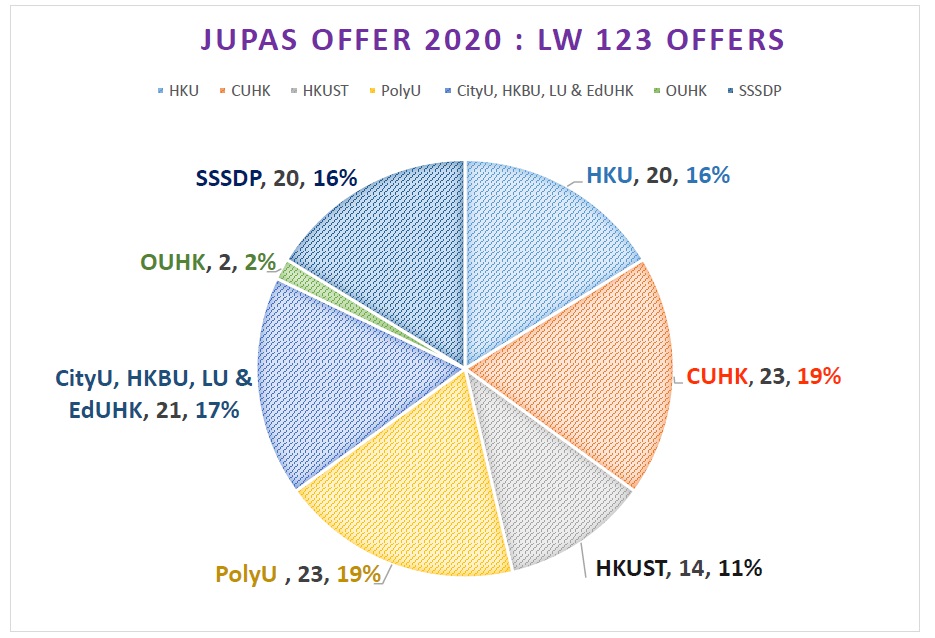 JUPAS Offer

Total

Architecture / Surveying /
6

Arts / Translation / Chinese / Geography / History / Japanese /

Government & International Studies / Sociology / Communication & Cross Media /

Culinary Arts / Music

11

BA & LLB / BBA & Laws / Laws
6

BBA / Accountancy / Quantitative Finance / Business & Management / Economics & Finance

21

Education (Chinese / English / Mathematics / Early Childhood / General Studies)

7

Engineering / Biomedical Engineering / Mechanical Engineering /

Environmental Engineering / Electrical Engineering

13

Medicine

5

Nursing / Medical Laboratory Science / Mental Health Nursing
24

Physiotherapy / Occupational Therapy / Optometry / Dental /
Speech & Hearing / Radiation Therapy

15

Science / Biotechnology / Theoretical Physics /

Risk Management and Business Intelligence / Earth System Science

9

Social Science / Social Work / Psychology / Public Administration

6
Non-Local University Offer 2020:
Country

University

No. of offer

Australia

University of Queensland昆士蘭大學

3

Australia

University of Sydney悉尼大學

5

Australia

Curtin University科廷大學

2

Australia

Queensland University of Technology昆士蘭科技大學

1

Australia

University of Adelaide阿得萊德大學

1

Australia

University of Newcastle澳洲紐卡素大學

1

Australia

University of New South Wales新南威爾斯大學

1

Australia

University of South Australia南澳大學

1

Canada

University of British Columbia英屬哥倫比亞大學

1

UK

Durham University杜倫大學

3

UK

King's College London, University of London倫敦大學國王學院

2

UK

Keele University基爾大學

1

UK

Guildhall School of Music and Drama市政廳音樂及戲劇學院

1

UK

Royal Academy of Music倫敦大學皇家音樂學院

1

UK

Royal College of Music皇家音樂學院

1

UK

Royal Conservatoire of Scotland蘇格蘭皇家音樂學院

1

UK

Royal Holloway, University of London倫敦大學皇家霍洛威學院

1

UK

Royal Northern College of Music皇家北方音樂學院

2

UK

Royal Welsh College of Music皇家威爾士音樂戲劇學院

1

UK

University College London倫敦大學學院

1

UK

University of Bath 巴斯大學

1

UK

University of Bristol布里斯托大學

1

UK

University of East Anglia (UEA) 東安格利亞大學

1

UK

University of Edinburgh愛丁堡大學

1

UK

University of Glasgow格拉斯哥大學

1

UK

University of St Andrews聖安德魯斯大學

1

UK

University of York約克大學

1

US

Manhattan School of Music曼哈頓音樂學院

1

Total:

39
Updated on 3 September 2020