2018
HKDSE Examination 2018
147 F.6 students sat the HKDSE 2018 and they performed very well. They obtained 382 Level 5-5** (including Mathematics Extended Part and Japanese). On average each student attained Level 5 or above in 2.6 subjects. Thirteen students scored Level 5** in two or more subjects.
103 students (70.1%) obtained 20 grade points or above, which is equivalent to scoring Level 4 or above in 5 subjects. 92.5% of our students met the basic university entrance requirement (33222).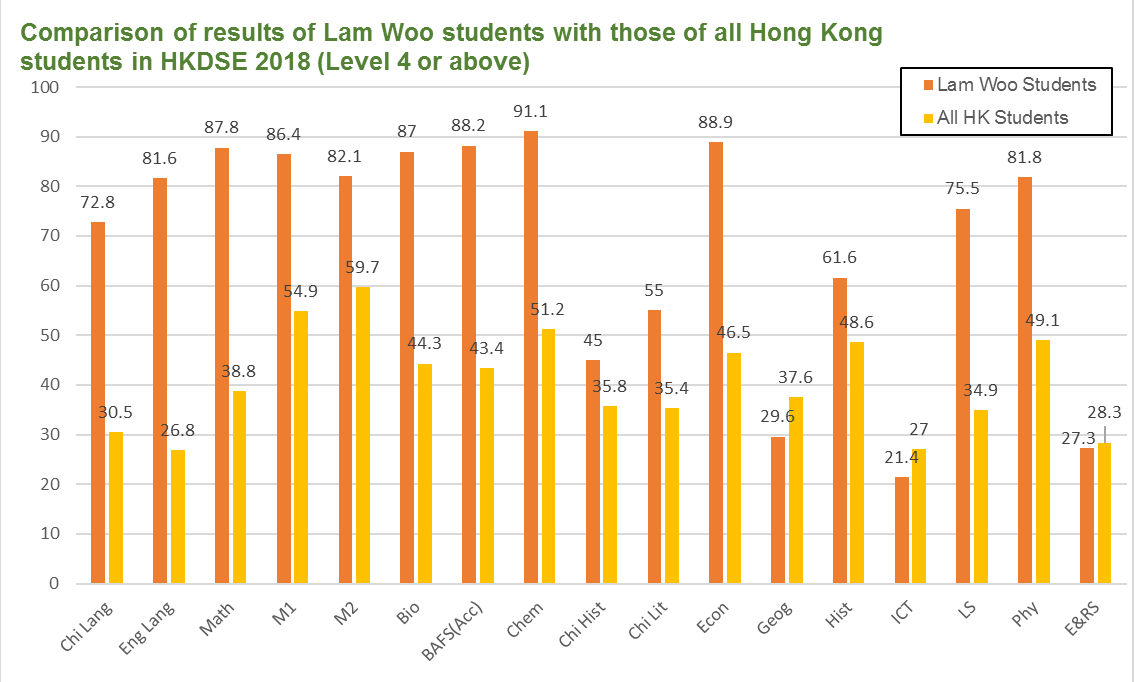 JUPAS Offer
137 students (93.8%) were admitted to university through Joint University Programmes Admissions System (JUPAS) (undergraduate programme: 85.6%; associate degree programme or higher diploma course: 8.2%). Eight students were admitted to the Faculty of Medicine and 2 students were admitted to LLB and BBA (Law).
Eight students were granted offers from overseas universities or universities in China, including University of Cambridge, University College London, King's College London, UC Davis, the University of Warwick, University of Leeds, East China Normal University and Peking University.
| | |
| --- | --- |
| JUPAS Offer | Total |
| Arts / Translation / English / Culture Management / Philosophy / Fine Arts | 16 |
| BBA / Accountancy / QF / Hotel Management / Economics & Finance | 21 |
| Education | 5 |
| Engineering / Biomedical Engineering | 34 |
| Law | 2 |
| Medicine | 8 |
| Physiotherapy / OT / Optometry | 5 |
| Nursing | 14 |
| Science / Biomedical Science / Enrichment Mathematics | 8 |
| Social Science / Communication / Social Work / Psychology / Sociology | 15 |
| Architecture / Surveying / Urban Studies | 9 |