2018-19
IMO Prelim and review of mathematics competition (國際數學奧林匹克香港區選拔賽頒獎禮,及本年度數學比賽回顧)
2019-07-07
The Prizing Ceremony of International Mathematical Olympiad Preliminary Selection Contest 2019 was held in July. By challenging elder secondary students 1C Yiu Chun Hei was one of the eight gold awardees in Hong Kong. 4E Yau Chi Kin achieved bronze award, while 3C Poon Tsz Chung and 5C Man Tsz Wa achieved honourable mentions. These 4 students, together with other top 105 students in Hong Kong, will attend a 9-month training conducted by university professors. 6 best students will be selected to be the Hong Kong representative to International Mathematics Olympiad 2020 (IMO 2020) which will be held in Russia.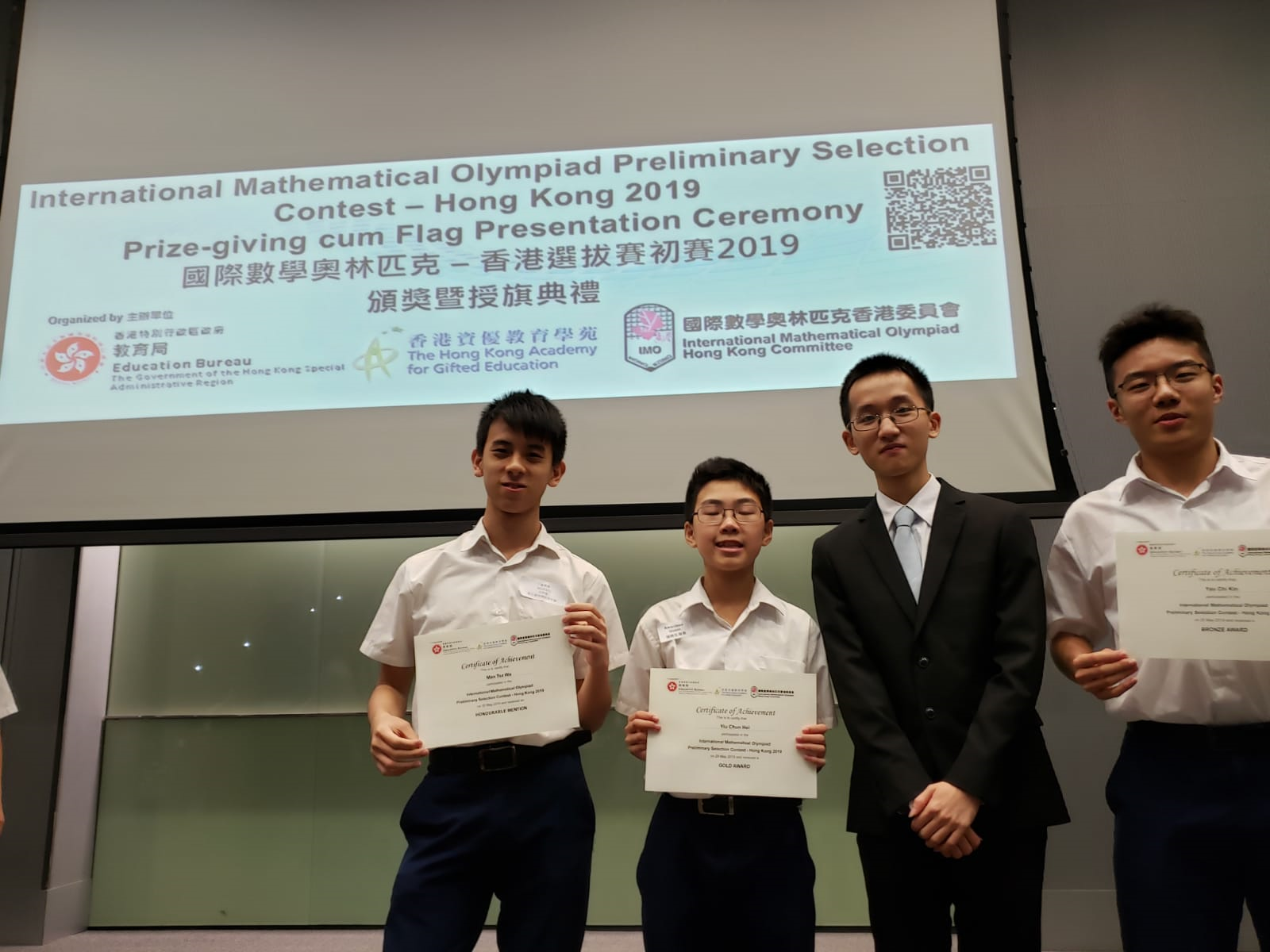 In the same ceremony, Our alumnus Fong Tsz Lo (6E 2018) shared his experience as a Hong Kong Team Member in IMO 2018 which was held in Romania. Fong Tsz Lo is now studying Mathematics in the University of Cambridge, United Kingdom.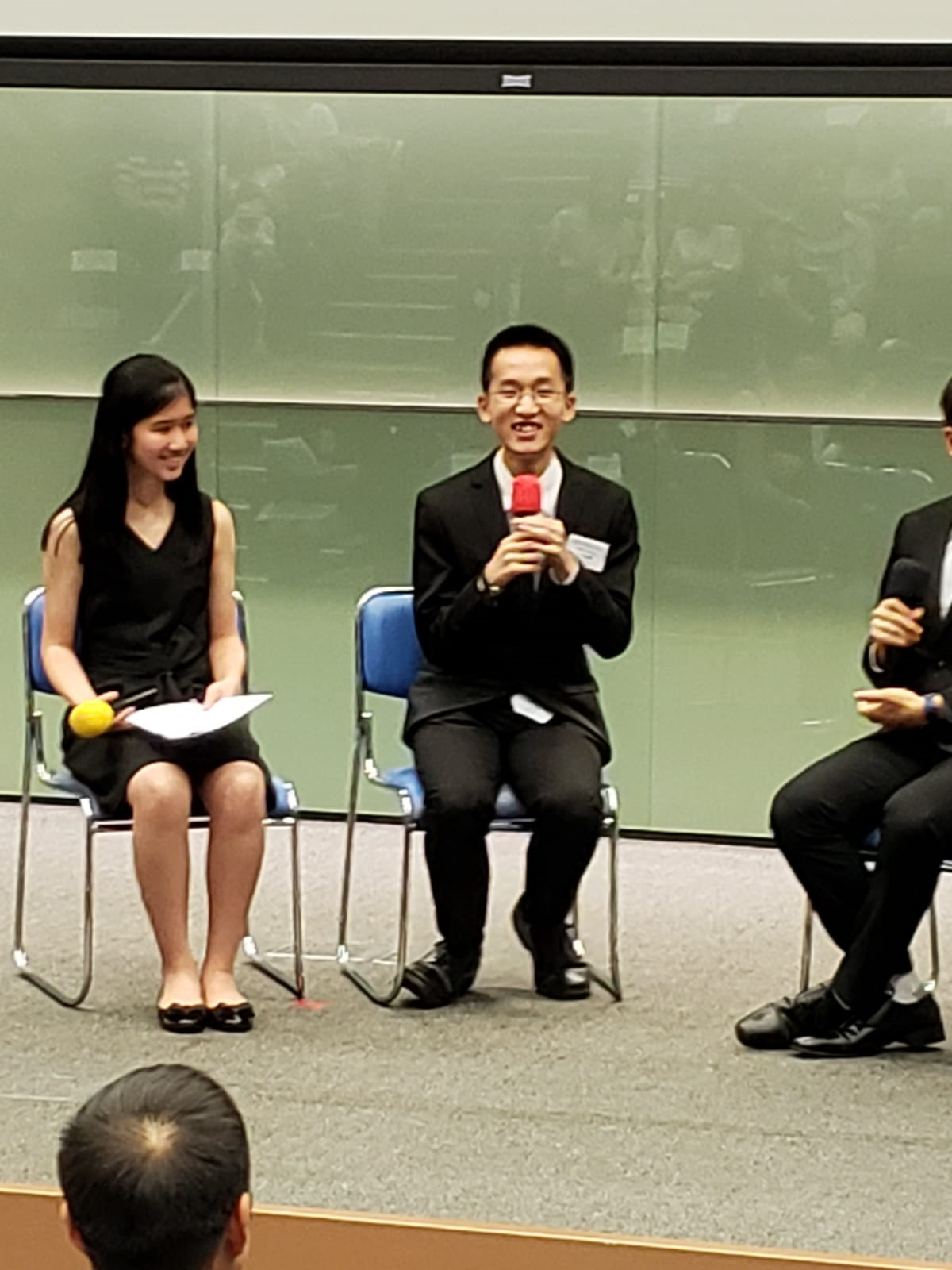 For more photos, please view our gallery.
Here is a review of our external mathematics competitions:
Competitions as school representatives 作為學校代表的數學比賽項目
Event
Participants
Award(if any)
 
Class

Class no.
Student name
 
Sing Yin Secondary School Invitational Mathematics Competition 2018/2019
聖言中學數學邀請賽
4D
28
LO WING YIN
 
4D
29
MAK HOU CHEUNG WAYNE
 
4E
18
CHEUNG HOI NAM
 
4E
29
TSE CHUN MONG
 
Hong Kong Youth Mathematical High Achievers Selection Contest
香港青少年數學精英選拔賽
2C
32
SO CHUN HIN
1st Class Honor
3C
19
CHAN SHEUNG HEI
1st Class Honor
3C
25
LEUNG CHI SHING
2nd Class Honor
3C
31
POON TSZ CHUNG
2nd Class Honor
3C
34
WONG CHEUK HIN
2nd Class Honor
Pui Ching Invitational Mathematical Competition
培正數學邀請賽初賽
1B
28
YUEN SZE NOK ANGUS
Finalist
1C
22
HUNG WAI KIN
 
1C
35
YIU CHUN HEI
Full Mark Award, Finalist
2C
13
CHAN YAT FUNG
Finalist
2C
22
HO MAN HOI HERMAN
Finalist
2C
32
SO CHUN HIN
 
3C
19
CHAN SHEUNG HEI
Finalist
3C
25
LEUNG CHI SHING
Finalist
3C
31
POON TSZ CHUNG
 
4D
28
LO WING YIN
Finalist
4E
18
CHEUNG HOI NAM
Finalist
4E
32
YAU CHI KIN
Finalist
5C
18
MAN TSZ WA
Finalist
6D
29
LI KA WING
Finalist
6E
20
CHAN WANG HIN DUNCAN
Finalist
Hong Kong Mathematical Olympiad Heat
香港數學奧林匹克初賽
The School
Geometric Construction Best Performance
4E
32
YAU CHI KIN
3rd Class Honor, Finalist
5C
18
MAN TSZ WA
Finalist
4E
18
CHEUNG HOI NAM
3rd Class Honor, Finalist
5D
31
WONG MAN TIK
Finalist
The National Hua Luo-geng Cup
華羅庚杯
1C
35
YIU CHUN HEI
2nd Runner Up
1B
16
CHANDRA ERIC
 
2C
32
SO CHUN HIN
2nd Class Honor
2C
34
SUEN TSZ HIN
 
2018-2019 香港初中數學奧林匹克全國青少年數學論壇選拔賽--數學解題技能展示比賽
1B
15
CHAN WING
 
1B
21
KEI CHEUK NAM
 
1B
22
LAU YUN TAI
 
1C
5
CHUI YUEN CHING
 
1C
22
HUNG WAI KIN
 
1C
30
TSE HONG WA
 
1C
35
YIU CHUN HEI
2nd Class Honor
1C
36
YUEN MAN WAI
3rd Class Honor
1D
28
IP WANG CHUN
3rd Class Honor
2C
1
CHAN CHEUK YING
3rd Class Honor
2C
13
CHAN YAT FUNG
 
2C
18
CHOY CHAK HIN
 
2C
22
HO MAN HOI HERMAN
 
2C
30
LI YAN CHUNG
2nd Class Honor
2C
32
SO CHUN HIN
 
2C
34
SUEN TSZ HIN
3rd Class Honor
2D
27
CHUI YU FUNG
 
2D
36
TANG YU HIN
 
3A
25
LO CHING KIT BENJAMIN
3rd Class Honor
3B
25
WONG TSZ CHUNG
 
3C
19
CHAN SHEUNG HEI
 
3C
25
LEUNG CHI SHING
2nd Class Honor
3C
31
POON TSZ CHUNG
 
3C
32
SAM SIU CHUEN
 
3C
34
WONG CHEUK HIN
2nd Class Honor
3D
29
LAW CHUN LAM
3rd Class Honor
2018-2019 香港初中數學奧林匹克全國青少年數學論壇選拔賽--數學建模小論文比賽
1C
35
YIU CHUN HEI
F1 Champion
2D
27
CHUI YU FUNG
F2 Honorable Award
2D
36
TANG YU HIN
F2 Honorable Award
Inter-School Mathematics Contest 2019
聯校數學比賽2019
1C
26
LUK HO HIN
 
1C
35
YIU CHUN HEI
 
1C
22
HUNG WAI KIN
 
2C
32
SO CHUN HIN
 
3C
31
POON TSZ CHUNG
 
4D
28
LO WING YIN
 
4E
18
CHEUNG HOI NAM
 
4E
32
YAU CHI KIN
 
Pui Ching Invitational Mathematical Competition
培正數學邀請賽決賽
The School
Group Merit
1B
28
YUEN SZE NOK ANGUS
 
1C
35
YIU CHUN HEI
Gold Award
2C
13
CHAN YAT FUNG
 
2C
22
HO MAN HOI HERMAN
 
3C
19
CHAN SHEUNG HEI
 
3C
25
LEUNG CHI SHING
Bronze Award
4D
28
LO WING YIN
 
4E
18
CHEUNG HOI NAM
 
4E
32
YAU CHI KIN
Silver Award
5C
18
MAN TSZ WA
 
Hong Kong Mathematical Olympiad Final
香港數學奧林匹克決賽
4E
32
YAU CHI KIN
 
5C
18
MAN TSZ WA
 
4E
18
CHEUNG HOI NAM
 
5D
31
WONG MAN TIK
 
International Mathematical Olympiad Preliminary Selection Contest 2019
國際數學奧林匹克香港選拔賽
1C
35
YIU CHUN HEI
Gold Award
3B
25
WONG TSZ CHUNG
 
3C
19
CHAN SHEUNG HEI
 
3C
25
LEUNG CHI SHING
 
3C
31
POON TSZ CHUNG
Honorable Mention
3C
34
WONG CHEUK HIN
 
4E
32
YAU CHI KIN
Bronze Award
5C
18
MAN TSZ WA
Honorable Mention
Other mathematics competition applied by students 其他個別報名的數學比賽項目
World Class Arena
2C
32
SO CHUN HIN
Distinction
HuaXa Cup Heat
華夏杯初賽
1C
35
YIU CHUN HEI
1st Class Honor
1C
22
HUNG WAI KIN
1st Class Honor
1C
7
HUI UEN KWAN
1st Class Honor
1C
15
WONG PO CHEUNG
2nd Class Honor
1D
28
IP WANG CHUN
1st Class Honor
1C
30
TSE HONG WA
1st Class Honor
2C
22
HO MAN HOI HERMAN
1st Class Honor
2C
34
SUEN TSZ HIN
1st Class Honor
2D
27
CHUI YU FUNG
3rd Class Honor
2C
12
CHAN TSZ YEUNG
2nd Class Honor
2C
32
SO CHUN HIN
1st Class Honor
3B
25
WONG TSZ CHUNG
1st Class Honor
3C
27
LO RYAN WANG HEI
2nd Class Honor
HuaXa Cup Semi-Final
華夏杯晉級賽
1C
7
HUI UEN KWAN
3rd Class Honor
1C
30
TSE HONG WA
2nd Class Honor
2C
22
HO MAN HOI HERMAN
Extra Class Honor
2C
12
CHAN TSZ YEUNG
2nd Class Honor
3B
25
WONG TSZ CHUNG
Extra Class Honor
3C
27
LO RYAN WANG HEI
2nd Class Honor
HuaXa Cup Final
華夏杯總決賽
1C
30
TSE HONG WA
1st Class Honor
3B
25
WONG TSZ CHUNG
Extra Class Honor
AIMO Heat
港澳杯初賽
1C
25
LUI YAT LONG
Silver Award
1C
35
YIU CHUN HEI
Gold Award
1C
5
CHUI YUEN CHING
Gold Award
1C
36
YUEN MAN WAI
Gold Award
1C
15
WONG PO CHEUNG
Bronze Award
1D
28
IP WANG CHUN
Gold Award
1C
30
TSE HONG WA
Gold Award
2C
34
SUEN TSZ HIN
Silver Award
2C
32
SO CHUN HIN
Gold Award
3B
25
WONG TSZ CHUNG
Gold Award
AIMO Semi-Final
港澳杯晉級賽
1C
25
LUI YAT LONG
Gold Award
1C
36
YUEN MAN WAI
Silver Award
1C
30
TSE HONG WA
Silver Award
3B
25
WONG TSZ CHUNG
Gold Award
Guangdong-Hong Kong-Macao Bay Area Mathematical Olympiad 2019 - Heat
粵港澳大灣區數學競賽2019預選賽
3B
25
WONG TSZ CHUNG
1st Class Honor
2C
32
SO CHUN HIN
1st Class Honor
2C
12
CHAN TSZ YEUNG
1st Class Honor
1C
30
TSE HONG WA
1st Class Honor
1D
28
IP WANG CHUN
2nd Class Honor
1C
7
HUI UEN KWAN
2nd Class Honor
1C
23
KWOK CALEB
2nd Class Honor
2C
2
CHAN JING
3rd Class Honor
1B
1
CHOW HOI YING
3rd Class Honor
2D
2
CHAN HOI CHING
3rd Class Honor
Guangdong-Hong Kong-Macao Bay Area Mathematical Olympiad 2019 - Semifinal
粵港澳大灣區數學競賽2019選拔賽
2C
32
SO CHUN HIN
Extra Class Honor
2C
12
CHAN TSZ YEUNG
2nd Class Honor
1C
30
TSE HONG WA
1st Class Honor
1C
23
KWOK CALEB
2nd Class Honor
Guangdong-Hong Kong-Macao Bay Area Mathematical Olympiad 2019 - Final
粵港澳大灣區數學競賽2019總決賽
2C
32
SO CHUN HIN
1st Class Honor
1C
23
KWOK CALEB
2nd Class Honor
Hong Kong International Mathmatical Olympiad Heat 2019
香港國際數學競賽初賽2019
1C
30
TSE HONG WA
Gold Award
1B
1
CHOW HOI YING
Silver Award
1C
23
KWOK CALEB
Silver Award
2C
32
SO CHUN HIN
Gold Award
Hong Kong International Mathmatical Olympiad Second Heat
香港國際數學競賽晉級賽 2019
1C
23
KWOK CALEB
Bronze Award
2C
32
SO CHUN HIN
2nd runner-up, Gold Award
Math Conceptition
數學思維大激鬥
The School
S1 Group 1st Runner-up
1C
5
CHUI YUEN CHING
Gold Award
1C
36
YUEN MAN WAI
Silver Award
1C
30
TSE HONG WA
Silver Award
2D
33
LUI ISSAC
Gold Award